ARCHITECT SERVICES Hiring TIPS WHEN NEW NORMAL
Update June 7, 2020
Following up on the program New Normal from the government that began testing several areas, Studio JAJ full support with service online architectural services.
We still serve direct consultations in the office Studio JAJ both in Jakarta and Bali, while complying with the regulations for physical distancing and maintaining cleanliness in accordance with the New Normal protocol.
There are regulations to keep this distance or physical distancing you do as a preventive measure to minimize the possibility of the spread of the COVID-19 virus.
In collaboration with Studio JAJ now is the right decision, because later construction will begin immediately when the pandemic ends and conditions return to normal.
Online Architect Consulting Services System by Studio JAJ
The following for the online consultation process:
1. Clients and architects do not have to meet in person very possible as long as the initial data is complete.
For the first time contact can be done by means and media that are simple, easy, and everyone has - by phone or consultation via our Whatsapp +62 812 2243 7888 (Gus Pra).
In this initial consultation the client will get an overview and estimate of the building area project costs according to the needs of the room and the condition of the land owned.
Although the consultation is carried out online, our team will endeavor the client's wishes to be conveyed. With good communication, we will always listen to client's preferences and suggest appropriate spatial planning and design.
So later, the design that our team plans is a combination of the client's tastes and our suggestions / references.
2. Field surveys are limited to only a few locations.
Regarding the limitation of activities in accordance with the provisions of New Normal, field survey activities will be limited only available just a few locations. The client can send a GS ground scan in the certificate, giving the complete space requirements, design reference, size of land owned and budget building (if any).
To conduct an online consultation, preparing completeness data is very important, including:
Land Situation Pictures (Land GS)
GS land is located on the land certificate that you own. Image showing the shape of the land, the position of the road and the direction of the compass. This image was scanned first to later be submitted to our team as a reference for design.
Example of GS Land
Building Space and Budget Needs
Before conducting a consultation, you should first make a list of space requirements. The need for this space is aimed at knowing how much land area is needed.
The building budget should also be prepared to give our team an overview of the material and design that will later be adjusted to your budget
Following is an example list space requirement:
Above is one example of one of our clients who consulted online. During the consultation process, our client Ms. Milla was very cooperative in communicating needs complete space and clear design references make the design process run more smoothly.
So there is no need to doubt if your location does not allow for field surveys, our team will intensely communicate with you to learn your daily habits in order to determine the needs and layout of your dwelling to create a dwelling with efficient comfort and order.
3. Communication through the media in the form of WhatsApp group, video call, telephone or email.
After all the requirements including complete administration, approval of the offer or draft contract are approved, the next step is the design process from the initial draft, 3D to finish design.
In this design process we direct clients through via Whatsapp Group so that our project team can accept all client input related to design, as well as providing limitations design for the common good in order to create a "exceptional design"According to the Vision and Mission Studio JAJ.
4. Design revisions up to 4 times
With this online architectural services system, we give you the opportunity to explore design issues.
For revision of concepts and floor plans that we usually give only 3 times, because communication is done through WA groups / phone / email, clients are allowed to make revisions at most 4 times.
Studio JAJ has experience consulting online architectural services, here are some design portfolios:
1.
Design a Mediterranean-style house owned by Ms. Wenny in Tanjung Selor, North Kalimantan
The home design process is done entirely online. Our team's communication with Mrs. Wenny as a client is done via WA and video calls. To our team, Ms. Wenny discussed her desire to build a magnificent house in the Mediterranean style with a facade that looks classic and luxurious. When discussing the needs of space, Mrs. Wenny wanted in her house there were mini theater facilities, a gym area, a pool area. To see the designs belonging to Ms. Wenny, click the link: A Mediterranean-style house in Tanjung Selor, North Kalimantan
2. 1st Floor Tropical Modern Balinese Style House in Batulicin, Kalimantan
The design belongs to our client, Mr. Agus who is domiciled in South Kalimantan. Great distances make communication for the residential design process done online. Mr. Agus wants a house design with a Modern Tropical Balinese style, where he likes the atmosphere of a fish pond and fountain in the yard. Mr. Agus also wants the position of the building to be in the middle of the land so that the building is surrounded by an open park .. Check in full at 1-storey Tropical Modern Balinese Style House in Batulicin, Kalimantan
3. Contemporary 2-storey Modern Style House in Ternate
The design belongs to our client, Ms. Milla, located in Ternate. Consultation was carried out online considering the domicile of Milla's mother in Ternate. He wants his house to have a Modern Contemporary nuance. In the design consultation process, Ms. Milla provided complete requirements and clear design references making it easier for us to determine design efficiency.
Our team tries to present a modern, contemporary feel to the facade's appearance which is displayed from the shapes and selection of finishing materials such as wood as wall ornaments or secondary screens. The nuances of the resort are also being adopted in the laying of the main bedroom of this residence. Check complete at 2 Floor Modern Style Modern House Design in Ternate
4. Design a Pastor's 1st Floor Home in Sorong, Papua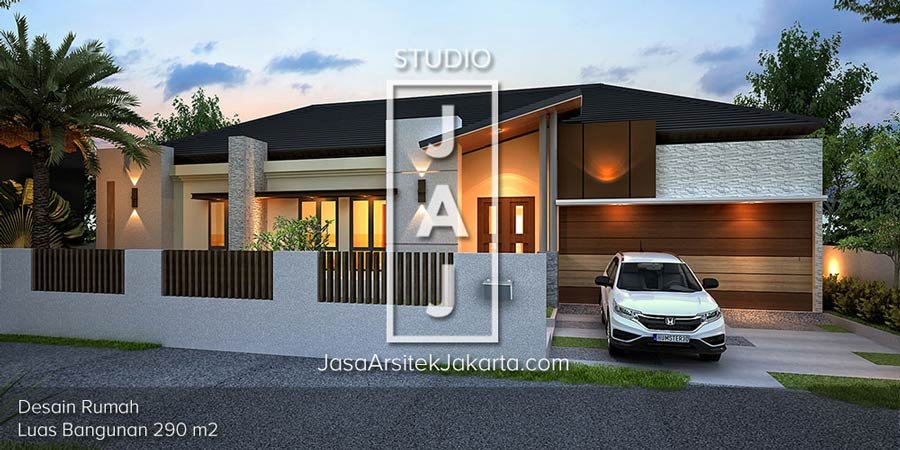 The design of our client Mr. Jeffry who lives in Sorong, Papua. Consultation is done online because of the great distance. This house was designated as a priest's residence, where Mr. Jefry was the one who communicated quite intensely as the homeowner's representative. Even though the distance and communication are only done via email and WhatsApp, Mr. Jefry is quite open and responsive with the complete data provided in the design process. The desired floor plan he can finish quickly and fulfill the owner's wishes. Check complete at Design a Pastor's 1-storey house in Sorong, Papua
Are You Ready To Hire Architect Services From Home Only?
Studio JAJ already has an integrated and effective system online so you can still follow the government's call for social and physical distancing.
Distance is not a problem because our team will always make communication as smooth and comfortable as possible. Evidenced by some of our clients who are very satisfied with the results of the design even though the consultation is done online.
What are you waiting, contact us immediately here to immediately realize your dream home.
Let's Build Something
We serve design consultations via online (e-mail, telephone, WhatsApp) for all of Indonesia and direct consultation for Jakarta and surrounding areas. Please understand now does not provide development services (architectural & home design services only).
* You can also read first our design procedures and costs and you can also visit our design portfolio here.
Before that, How was the initial consultation stage with Studio JAJ before starting the design process?