Project House 3 Floor Style Balinese Tropical Resort
A Balinese Modern Living Concept with an area of ​​1000m2, located in Jakarta
Details
Land width: 19 m
Bedrooms: 12
Total land area: 770 m2
Total building area: 1061 m²
Style design: Balinese Tropical Resort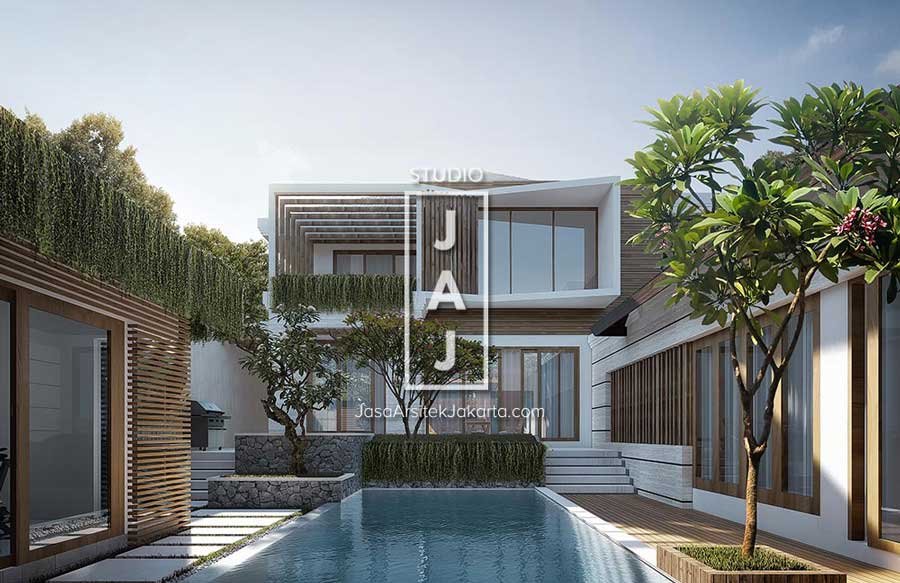 Client Request
Starting with our client, Mrs. Regina who wants to have a 3-storey residence and give a Balinese Tropical Resort feel
Our Solution
Mrs. Regina's residential design in Jakarta, which is a 3-storey house with a building area of ​​1000m2 on an area of ​​19 meters in width.
The dwelling with the concept of split level in the organization of the building plan displays a modern Balinese nuance in its facade display, where the combination of natural stone and wood installation as a wall ornament or secondary screen on the building facade. Natural stone and wood combine to create a warm, nan feel to the building's facade.
Design recommendations for you: House Design 3 Floors bthe American Style style in Jakarta
Not only that the nuances of the Bali resort also try to be adopted in the laying of the main bedroom of this residence, where the laying of the main bedroom is placed in an area that has the least noise level to get peace of mind at rest. In addition to the layout, the environment around the main room is also arranged in such a way with a green and beautiful landscape layout so that the nuances of the resort in the main bedroom area are well created. Give comfort to the user in a residential in the middle of a dense urban area.
Design recommendations for you: Design a Classic Mediterranean Style Luxury Home
Spatial
The following is the layout of Mrs. Regina, in the basement there are:
Sunroom
Laundry room
Rest room
Warehouse
6 ART Room
Car Garage 4
On the first floor:
Living room
The dining room
Family room
Workspace
Main bedroom 6 mx 8.5 m
2 Guest Rooms
Kitchen
Warehouse
Gym & sauna room
1 Main Bedroom 4,75 x 5,5 m
Bathroom + WIC
Living Room
Warehouse
Workspace
On the second floor:
2 Children's Bedrooms
Family room
Study Room + Outdoor sitting room
Client: Mrs. Regina
Completion: –
Project Type: Private Residence
Style: Balinese Tropical Resort
Bedroom : 12 Bedroom
Land Width: 19 meters
Architects: IGN Andri Saputra, ST
Architectural Design
In Architectural Design we always focus on top-notch layout so it produces compact design, efficient and stay awake in terms of beauty.

interior design
interior design Studio JAJ focuses on presenting the harmonization of the room with the overall architectural style or concept.
Tropical Landscape Design
Landscape Design with a tropical style that characterizes our architectural design, for the harmony of the face of the building, interior design and parks become one unit.
Currently studio JAJ have had representatives in 2 major cities namely in Jakarta (Office 88 Kasablanka) and Bali (Sading Selaras Housing) which are experienced in handling private home and commercial building projects not only from Jakarta or Bali but from all over Indonesia such as Aceh, Banjarmasin, Ternate, Banggai, Labuan Bajo, Papua , Lombok and so on even foreign countries like Nigeria and Australia.
Contact us now to create your best design, and you can also visit our design portfolio here.
Download the Complete Portfolio Studio JAJ by clicking the Download button below: