Pastor's House Project 1 Floor Minimalist style
A minimalist concept residence with an area of ​​290m2, located at Sorong West Papua.
Details
Land width: 23 m
Land dimensions: 26 mx 23 m
Bedrooms: 3 bedrooms
Total land area: 600 m²
Total building area: 290 m²
Design style: Minimalist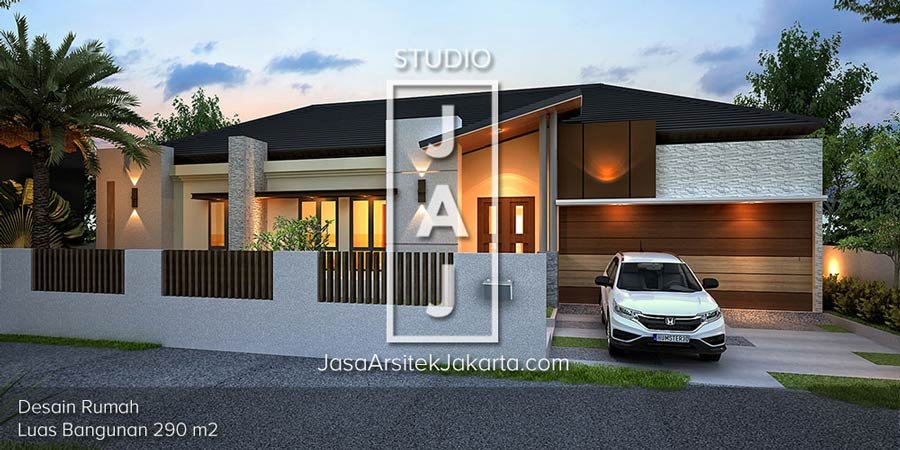 Client Request
Mr. Jefry as our client wants a minimalist style residence and there are 3 rooms in it and a large garden.
Our Solution
Our design belongs to Mr. Jefry in Sorong, West Papua, which is a 1-storey house with a building area of ​​290 m2. The land owned is actually quite large at 600m2, but only part of it is used as a building and the rest of the land as a park.
This house was designated as a priest's residence, where Mr. Jefry was the one who communicated quite intensely as the homeowner's representative. Although the distance and communication are only done via email and WhatsApp, Mr. Jefry is quite open and responsive with the complete data provided in the design process. The desired floor plan he can finish quickly and fulfill the owner's wishes.
Design recommendations for you: House Design 1 Floors berasya Modern Bali
Spatial
This minimalist style house has the following layout:
1 main bedroom uk 8,6 x 4,5 m
2 bedrooms
family room
the dining room
living room
dirty and clean kitchen
2 bathrooms
warehouse
workspace
pastoral room & prayer room
laundry & laundry room
1 maid's room
taman
2 car garage
This is one dream design of a 1-storey house for those of you who want a comfortable layout and have a large area.
Client: Mr. Jefry
Completion: –
Project Type: Private Residence
Style: Minimalis
Bedroom : 3 Bedrooms
Land Width: 23 meters
Architects: Gamaliel Sangga Buana, ST
Architectural Design
In Architectural Design we always focus on top-notch layout so it produces compact design, efficient and stay awake in terms of beauty.

interior design
interior design Studio JAJ focuses on presenting the harmonization of the room with the overall architectural style or concept.
Tropical Landscape Design
Landscape Design with a tropical style that characterizes our architectural design, for the harmony of the face of the building, interior design and parks become one unit.
Currently studio JAJ have had representatives in 2 major cities namely in Jakarta (Office 88 Kasablanka) and Bali (Sading Selaras Housing) which are experienced in handling private home and commercial building projects not only from Jakarta or Bali but from all over Indonesia such as Aceh, Banjarmasin, Ternate, Banggai, Labuan Bajo, Papua , Lombok and so on even foreign countries like Nigeria and Australia.
Contact us now to create your best design, and you can also visit our design portfolio here.
Download the Complete Portfolio Studio JAJ by clicking the Download button below: